Automotive
Automotive Technology Certificate and Associate of Applied Science
The Automotive Technology program is designed to prepare students for employment in the high technology automotive service industry.
Students will gain knowledge in automotive air conditioning, electrical systems, fuel injection, transmissions and transaxles, engine performance, brake systems, steering and suspension systems, and computerized automotive control systems. Emphasis will be placed on hands-on learning in the labs to develop diagnostic and troubleshooting skills, as well as repair procedures.
Graduates of the Automotive Technology program are typically placed in dealerships, independent garages and specialty automotive repair facilities. Courses taken for completion of the Certificate Program can be applied toward completion of the Associate of Applied Science Degree in Automotive Technology.
Ford Maintenance and Light Repair Certificate
Ford Certified Maintenance and Light Repair technicians know the skills required to perform regular maintenance, light repairs and parts installation on all types of Ford, Lincoln and Mercury automobiles and light trucks.
Successful students in this program will achieve Ford Motor Company's Maintenance and Light Repair certification, which includes:
Automotive Electrical System
Automotive Brake Systems
Automotive Heating and Air Conditioning
Automotive Suspension and Steering
GM-ASEP (Automotive Service Educational Program) Associate of Applied Science
What is GM ASEP? ASEP is an educational partnership between South Texas College and General Motors Corporation. It is a GM-specific program designed to upgrade the technical competency and professional level of the entry level GM dealership technician. The curriculum reflects current GM technology. ASEP provides classroom and laboratory training that is reinforced by on-the-job experience in a GM dealership. It is a comprehensive, two-year program
| Name | E-mail | Phone | Location |
| --- | --- | --- | --- |
| Angulo, Gerardo | jangulo | 956-683-2710 | Tech B307 |
| Hernandez, Nancy | nherna30 | 956-872-2708 | Tech B302 |
| Solis, Leslie | lsolis17 | 956-872-6258 | Tech B241 |
| Name | E-mail | Phone | Location |
| --- | --- | --- | --- |
| Alfaro, Juan | jalfaro2 | 956-872-2749 | Tech B305 |
| Camarillo, Rogelio, GM ASEP | rcamaril | 956-872-6243 | Tech B303 |
| Chapa, Juan, Ford MLR | jchapa_2791 | 956-872-6250 | Tech B305 |
| Dela Pena, Raul, Ford MLR | rdlpena | 956-872-6185 | Tech B230 |
| Garcia, Rodrigo | rod956 | 956-872-2705 | Tech B131 |
| Lopez, Ricardo | rlopez | 956-872-2733 | Tech B231 |
| Moreno, San Esteban | sanestebanmoreno | 956-872-6256 | Tech PB7B |
| Munoz, Ruben, GM ASEP | rmunoz_7150 | 956-872-6108 | Tech B305 |
| Ochoa, Matias | mjr | 956-735-3221 | Roma HS |
| Sanchez, David, Ford MLR | dsanchez1 | 956-872-6170 | Tech B139 |
| Trevino, Roy, GM ASEP | royt | 956-872-2711 | Tech B302 |
| Unruh, Daniel, GM ASEP | dunruh | 956-872-2707 | Tech B303 |
| Vega, Matthew, GM ASEP | mvega3 | 956-872-2741 | Tech B305 |
Please contact the department for information about Adjunct Faculty
Program Chair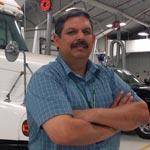 Roy Trevino
Office: Technology Campus B302
Office Phone: 956-872-2711
Department Phone: 956-872-6258
Department Fax: 956-872-2714
Email: royt@southtexascollege.edu