Culinary Arts
The National Restaurant Association projects sales will increase by 4.9% in 2005. This impact is expected to exceed to 1.2 trillion dollars in sales alone. The industry currently employees over 12 million people. About 2 million more jobs will become available over the next 10 years. This makes the food service industry the largest retailer in the United States which comes out to 9% of all people employed in the US. Restaurants in Texas are also part of this economic engine of growth and project sales are expected to exceed 29 billion dollars. Each additional million spent in eating establishment will generate 41 jobs. These facts have made the restaurant industry an extraordinary career opportunity.
The fastest growing industry in the U.S.
It is estimated that there will be over 1 million more job openings by the turn of the century!
Get a jump-start on your career in the food-service industry now by registering in the Culinary Arts Program at South Texas College!
Both Certificates (1 year) and Associate of Applied Science (2 years) degrees are available.
Class schedules are available at all Student Information Centers.
Due to limited space and to ensure your place in the program, enroll today!
Get Started at STC!

1-855-Go-To-STC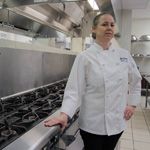 Chef Jennifer Guerra
I have always loved cooking. Yes, I was the girl who always wanted to be in the kitchen, right next to my mom, doing whatever little task she would allow me to get my hands on. So, when I was 13, my mom had a friend give me a job in her restaurant. This just ignited my passion for cooking. I worked every position in the restaurant until I graduated High School. One week later, I was off to the Culinary Institute of America, in Hyde Park, NY. After I received my degree, I worked at a small restaurant in the Chicago Area as their Pasty Chef. Then as my career progressed, I have worked as a Chef in catering companies, fine dining restaurants, and Hotels. I was the Executive Sous Chef for La Mansion del Rio in San Antonio before I was recruited to the Rio Grande Valley as the Executive Chef of the Embassy Suites. Most recently I was both the Director of Kitchen Operations for both Republic of the Rio Grande and Santa Fe Steak House in McAllen, where I was also worked as their Pastry Chef. I remain ever passionate about Culinary Arts, and I am excited to share my knowledge and experience with the students at South Texas College.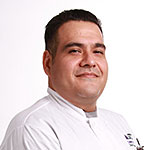 Chef Ruben Lemus, Jr.
...
---
Contact Culinary Arts Program ---
Department Contact
Lizzet Garza
Pecan G-246
956-872-2559
Undecided? Explore Career Choices